We're here to challenge your concept of the traditional "spa" facial. If you're in the market for real results, such as smoother skin, tighter pores, more even tone, diminished acne and softened lines and wrinkles, it's time to visit CrisWell Medical Spa for the most advanced, cutting-edge and best-in-class medical-grade facials in the industry.
Our medical director and owner, Cristin Mercer-McNeil, is an acclaimed educator and trainer in the skin care industry with decades of experience. Cristin has been trained by the esthetic pioneer Dr. Des Fernandes, founder and owner of Environ® skin care, an award-winning medical-grade skin care line (available for sale at CrisWell). To provide the highest level of results, Cristin has staffed her medical spa with master estheticians at the top of their field and invested in the leading, clinically proven technologies and products. Our staff is compiled of experienced nurse practitioners, RNs and medical estheticians. With combined experience of over 70 years, our staff is both knowledgeable and empathetic to your needs, with sp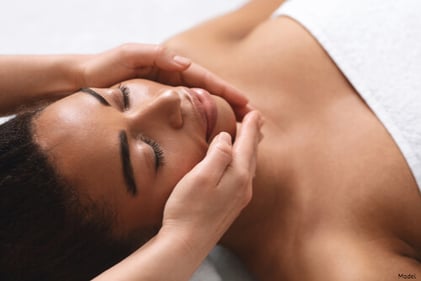 ecial attention to privacy and confidentiality.
Here's what you need to know about medical-grade facials at CrisWell Medical Spa, and how you can get started.
Facials are not a one-size-fits-all treatment!
Every facial we administer at CrisWell Medical Spa is tailored to a client's exact needs. The 25-year-old presenting with clogged pores and oiliness will need a different regimen than the 55-year-old looking for a lift with tightening and brightening. All of these common skin concerns and goals can be addressed and met with CrisWell's state-of-the-art technology and skin care products. This brings us to our next point…
Results are everything.
Fluff and buff facials may help you "glow" for a few hours following your treatment but will do little more than that. At CrisWell Medical Spa, we are serious about providing you with results, which is why we have invested in proven technologies, including:
TriaWave
Considered a non-surgical facelift, TriaWave is the ultimate age-defying treatment for lifting, tightening and toning the face and neck. This advanced microcurrent technology causes muscle fibers to contract, providing a lifting and tightening effect for targeted areas without downtime. This treatment can be used in conjunction with any skin rejuvenating treatment for remarkable results.
HydraFacial MD®
A targeted treatment to refresh, rejuvenate and nourish fatigued skin. This fully customizable treatment can target fine lines, dehydration, photoaging and acne. HydraFacial uses vortex technology with treatment serums to leave skin feeling refreshed, bright and renewed.
LED Light Therapy
LED light therapy penetrates to the deeper dermis to stimulate blood flow, increase cellular energy and rejuvenate the skin. Red light targets cellular renewal while Blue light targets acne-causing bacteria in the skin. LED therapy can complement any skin program and can also be used independently for remarkable results.
We will tailor your treatments to your exact needs and goals.
No matter your budget or skin care concerns, our team will help you choose from a variety of personalized service regimens ranging 30, 60 or 90 minutes. We are on a mission to help you reach your goals and will devise a regimen that works with your lifestyle and budgetary needs, without sacrificing your results!
It's time to treat yourself to age-defying radiance this spring! To learn more about our medical-grade facials, please call 781.935.7333 or request a consultation online.