We're in the final stretch of a long and snowy winter, and we may also be in the final stretch of mandatory mask wearing (cross your fingers the rates keep going down!). While we're not there yet, it's an ideal time to start prepping for the brighter days ahead (both literally and figuratively) so you'll be ready for your BIG REVEAL when the time comes.
Here are a few of our favorite tools for revitalizing your skin and body from head to toe.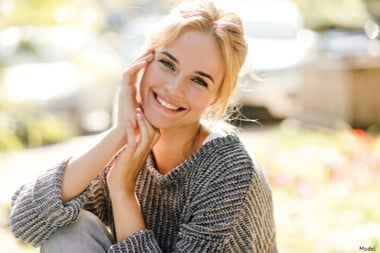 Reverse sun damage and renew your skin — literally!
We are so thrilled to be providers of the leading skin rejuvenation technologies on the market with award-winning Halo™ fractional laser skin resurfacing and BBL™ photofacial. These two skin treatments are made by Sciton™, a pioneer in laser skin technology, and work to stimulate new collagen and elastin growth for a wide range of complexion improvements. Halo and BBL are very distinct skin technologies but they pair perfectly for a synergistic boost of benefits, including brighter, more even skin tone, smoother texture, smaller pore size, diminished lines and wrinkles, and much more.
Make medical-grade skin care your new bestie!
The easiest way to enhance the results of any skin treatment is applying results-driven skin care products at home, in between your appointments with us. Medical-grade skin care is based on science and years of research to afford dramatic results in your skin with minimal irritation. We are thrilled to provide the full range of Environ® Skin Care, which our team has been using with great success for decades. Environ recently won "Top Medical Skin Care of the Decade" in the Aesthetic Everything® Aesthetic and Cosmetic Medicine Awards 2021. CrisWell founder and owner Cristin Mercer-McNeil established strong roots with Environ Skin Care in her 30 years of experience in the esthetic industry. She had the privilege of training with Environ founder and Medical Needling pioneer Dr. Des Fernandes.
Trim away fat rolls with ease.
Don't have hours of free time to spend working out your abs at the gym? Don't want to? It's time to embrace the power of non-invasive fat reduction with CoolSculpting® in Woburn. CoolSculpting may be a good fit for you if you are close to your ideal weight but still want to improve your contours here and there. It's designed to tackle stubborn fat bulges like a muffin top, double chin, bra fat or spare tire. It works by freezing away and crystalizing your targeted fat cells. Once your fat cells have been disabled, they are gradually flushed away by your body in the weeks and months following your treatment. This means you'll notice subtle improvements to your contours. Best results are seen with a series of treatments. We can help you devise your ideal CoolSculpting regimen during your personal consultation.
Don't forget about our First-Time Client Offer!
$100 off a $500 service
$200 off a $1,000 service
$300 off a $1,500 service
We have so many more prepping ideas, so don't hesitate to reach out to us and learn more! Please call 781.935.7333 or complete a consultation request form online today.