Did someone say glowing skin? That's our M.O. at CrisWell Medical Spa! Our last blog explored the leading skin treatments Halo™ and BBL™, which are amazing skin technologies that help reverse sun damage and aging to reveal years-younger skin. However, Halo does involve some social downtime, depending on the intensity of your treatment.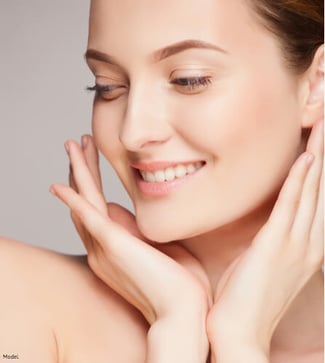 So, what do you do when you absolutely can't spare any downtime? Fret no more, because CrisWell has got you covered! As leading skin care experts, we've curated an impressive range of glow-getting treatments, all of which help to provide a slew of benefits, including stimulating new collagen and elastin, supporting cellular repair, removing surface dead skin cells and revitalizing the skin. Other top benefits of our glow-getters include:
Reducing fine lines and wrinkles

Destroying acne-causing bacteria

Hydrating the skin

Reducing and controlling inflammation

Increasing skin's metabolism

Brightening the skin
So, honestly, the problem is picking only one skin treatment! (Hint: You don't have to pick just one, especially with our new-client specials going on, which will help you save big: $100 off a $500 service; $200 off a $1,000 service; $300 off a $1,500 service!)
Without further ado, here are some of your options for hitting the refresh button this season:
TriaWave/Microcurrent lifting
Considered a non-surgical facelift, TriaWave is the ultimate age-defying treatment for lifting, tightening and toning the face and neck. This advanced microcurrent technology causes muscle fibers to contract, providing a lifting and tightening effect for targeted areas without downtime. This age-defying treatment can be used in conjunction with any skin-rejuvenating treatment for remarkable results.
Environ Ionzyme DF II Machine
You'll take your skin care to the next level with this state-of-the-art device by Environ®, a leading medical-grade skin care line which recently won "Top Medical Skin Care of the Decade" in the Aesthetic Everything® Aesthetic and Cosmetic Medicine Awards 2021. Ionzyme DF helps to push active vitamins and growth factors deep into your skin where you need revitalization. Designed specifically for Environ skin care products, this comfortable treatment is the first to effectively combine sonophoresis and iontophoresis, stimulating skin renewal while also enhancing deep product absorption for the highest level of results. Super cool fact: Twenty minutes of the pulsed iontophoresis is equal to seven hours of massage and five minutes of the low frequency sonophoresis is equal to 700 hours of massage! How's that for stimulation?
LED

Light Therapy
LED light therapy penetrates to the deeper dermis to stimulate blood flow, increase cellular energy and rejuvenate the skin. Red light targets cellular renewal while Blue light targets acne-causing bacteria in the skin. LED therapy can complement any skin program and can also be used independently for remarkable results.
BBL photofacial
Last, but far from least, is BBL. We couldn't write a blog about no-downtime glow-getters without mentioning BBL! In case you didn't know, BBL stands for Broadband Light. It's an advanced form of intense pulsed light (IPL) treatment. This non-invasive treatment stimulates your skin with intense light to clear away pigmentation concerns like freckles, sunspots, age spots, brown spots and liver spots. It's also great at tackling visible capillaries and other small veins, reducing redness and improving rosacea. Best of all, IPL stimulates new collagen and elastin growth, which are the bedrocks for strong, supple, youthful skin. You simply can't go wrong with this non-invasive treatment. There's no downtime!
Are you ready to revitalize your skin and feel amazing? We can't wait to help you do just that! To learn more about your glow-getting options, please call 781.935.7333 or complete a consultation request form online today.