Injectables have remained the world's most popular and thoroughly studied aesthetic treatments for decades, and with good reason. Neuromodulators like Botox® and dermal fillers (Juvéderm®) are tried-and-true and clinically proven tools for smoothing lines and wrinkles and replenishing lost volume with minimal to no downtime. That said, certain misconceptions about injectables still abound.
Here's a closer look at two persistent myths we encounter on the job and, most importantly, the takeaway truth to remember when scheduling your next treatment.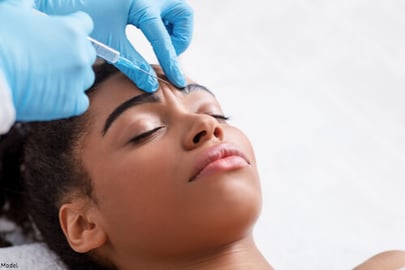 Myth #1: You don't need a consultation before getting Botox.
Takeaway Truth: A personal consultation is the key to achieving your goals.
In-depth consultations are less frequent for clients who have been visiting the same provider for years for their Botox. If you're a "regular," your provider intimately understands your facial anatomy and goals, so you'll probably need only periodic consultations as your needs change.
Still, consultations are essential for even the most seasoned aesthetic consumers because they can help to prevent "treatment ruts," says CrisWell owner and master aesthetician Cristin Mercer-McNeil. "Consultations help us reassess your needs and provide us with the opportunity to suggest alternative modalities that may suit your needs better."
Bottom line: Consultations are essential for everyone, from newcomers to the most seasoned and savvy aesthetic consumers.
"We need to know what your exact goals are," says Cristin. "Understanding your goals helps us avoid dissatisfaction or administering the wrong treatment."
Cristin is speaking from experience. Sometimes clients are in a rush and want to forgo a consultation because they're familiar with the treatment. It makes perfect sense, considering how effective, clinically proven and safe Botox treatments are. However, skipping the consultation process can backfire when the client and provider's goals are not on the same page.
Take, for example, the client who wishes to have more Botox because he isn't seeing the results he wants. This client comes in to smooth a static crease on his forehead, not realizing that Botox by itself is probably not the ideal solution for this type of wrinkle. You see, Botox helps smooth dynamic wrinkles, which are caused by muscle movement. By relaxing the muscle movement underlying dynamic wrinkles, a patient can enjoy smoother looking skin. However, static wrinkles are the result of lost collagen and elastin, not muscle movement. Botox can help static wrinkles, but only to a point
Had a consultation taken place, the client would have learned about the different types of wrinkles on his face. In an in-depth consultation, he and his provider would have had the time to hash out a detailed treatment plan that addressed all his wrinkles, in addition to other related aesthetic concerns.
"For his best results, this client would have been better served with a combination treatment including dermal fillers and Botox, and perhaps some microneedling or laser facial treatments with Halo™ or ClearSilk™," says Cristin.
Myth #2: It doesn't really matter where you get your injectables.
Takeaway truth: The skill of your provider counts in a major way!
We all know this truth instinctively, but when it comes to scheduling our next treatment, many of us are motivated by the closest sale. We love bargains like the best of us! (In fact, we're holding two injectable sale days this month to help you save!) However, when it comes to getting the highest level of results, we urge you to carefully consider your provider's credentials. At CrisWell, our team of injectors are at a master level, which means they've undergone years of training and experience to administer advanced injectables treatments. A highly experienced injector knows how to reduce your risk of swelling, bruising and pinpoint bleeding. A skilled injector will take their time to ensure your treatment is flattering and balanced. The most experienced injectors are well-versed on facial anatomy and understand how to administer the most exact, precise and advanced injectable techniques.
Are you ready to love your look at every age and stage of life? To learn more about our leading menu of age-defying treatments for the skin and body, please call 781.935.7333 or complete a consultation request form online today.
Contact an Experienced Woburn Injectables Specialist Near You
If you are looking for smoother skin and a quick, safe way to get vitamins and hydration, contact Criswell Medical Spa. See many of our other great offerings: coolsculpting, laser skin rejuvenation, botox, and more. Call today to schedule an appointment.